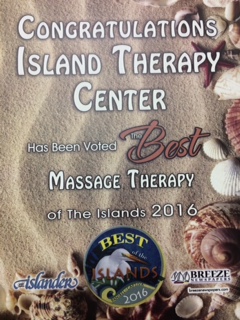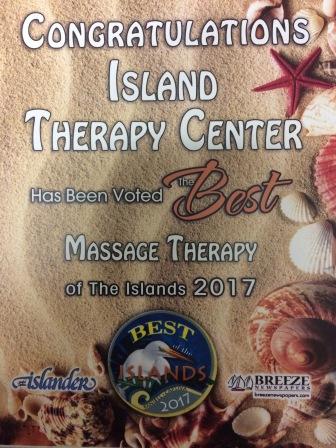 Proud to be voted "Best of the Islands", 2016 and 2017!

Why choose an Island Therapy Center massage over other providers on Sanibel Island? Whether you have an injury needing attention or require a relaxing, stress-relieving treatment, all our services are performed by highly-skilled, experienced and licensed massage therapists or, in certain cases, by physical therapists with dual licensure as massage therapists. No extra charges for specialty massages, and treatments can be customized in consultation with your therapist. Insurance coverage for massage therapy may be available in some cases.
All sessions are by appointment only, and provided in our relaxing and comfortable private therapy room. Island Therapy Center massage therapists provide varied types of massage according to your needs, including:
Relaxation

- Traditional full-body Swedish massage with long, sweeping strokes. Specify light, medium or firmer pressure.
Deep Tissue

- Firmer pressure with specific therapeutic treatments to improve soft-tissue mobility with reduce muscular tension/fascial imbalance. May include trigger point release or myofascial techniques.
Medical Massage

- Addressing specific areas of injury or pain with massage therapy techniques. Cost may be reimbursed by insurance with physician's referral. Consultation with physical therapist may be of benefit, please discuss with your massage therapist.
Sports Massage

- Great treatment for a

fter an event to reduce lactic acid build-up and reduce soreness, or book regular sessions to improve athletic performance. Areas of focus dependent on primary sports in consultation with the therapist, and can include stretching and myofascial work.
Craniosacral Therap

y

- Gentle technique to promote improved function of the nervous system, reducing stress, and resulting in peace and relaxation. Comfortable clothing should be worn for the session.
Reflexology

- Soothing treatment for the feet, with pressure points corresponding to body regions targeted. Combined with peppermint treatment and hot towels for a 25-30 minute session. Can combine with neck,shoulder and scalp treatment for a full 50-60 minute session.
Cupping

- Alternative treatment utilizing specialized suction cups on the skin (specifically controlled by the therapist, no "fire-cupping"). This treatment increases local skin circulation and reduces myofascial tension in the tissue. Treatment may result in bruising and is not recommended for persons with compromised skin/circulation.
Pre-Natal/Pregnancy

- For treatment in the 2nd and 3rd trimesters only. Relaxing and therapeutic massage with positioning for comfort. Great for reducing neck/back soreness and tired feet.
Chair Massage, Semi-Reclined or Modified-Position

- Great option for those with difficulty moving or needing assistance with their mobility. You may remain fully or partially clothed to your comfort level for the treatment.
Geriatric Massage

- Specialized light-pressure treatment with gentle moisturizing creme to protect and enrich dry, thin skin. Treatment as above can be customized to the mobility level and needs of the client, with gentle range of motion and soft-tissue treatment as indicated. All can benefit from massage, and we have treated clients in their 90's with great results and satisfaction.
Manual Lymph Drainage (MLD)

- For detoxification/immune support, a light pressure massage technique designed to support the lymphatic system. If requesting MLD for therapeutic treatment of swelling or lymphedema, please see our

physical therapy page

.
Rates:

At Island Therapy Center - 25-30 Minutes: $50

At Island Therapy Center - 50-60 Minutes: $99 Summer Special $89**

Package Special* 5 sessions 50-60 Minutes: $465 Summer Special $425**

At Island Therapy Center - 80-90 Minutes: $145 Summer Special $133**

Home or rental facility on Sanibel:
60 Minutes $120, 90 Minutes $160

Home or rental facility west of Bowman's Beach Road:
60 Minutes $145, 90 Minutes $185

Home or rental facility in South Seas:
60 Minutes $160, 90 Minutes $200

*Massage packages are for 50-60 minute sessions only and are non-transferable and non-refundable. While we will do our best to accomodate your needs, we are unable to guarantee the same massage therapist for each treatment due to scheduling constraints. Booking sessions at time of purchase is recommended.

**Summer Special rates valid May 15th to September 30th.

Unlike some spas or resorts offering massage therapy, we do not charge additional fees for deep tissue or specialty treatment with our massage sessions. We believe in customizing each massage experience to our client's individual needs and physical status. You will appreciate the difference!
Does your insurance cover massage therapy sessions as the result of an auto accident or injury? If so, we will be happy to process claims for you. Please note that payment in full is expected at the time of service, and you will be reimbursed within 30 days from the payment of your claim. Please check your insurance benefit details carefully. Pre-authorization and/or physician's referral may be necessary.

Massage therapy sessions may be of benefit to you if you are having, or have had, physical therapy treatment. These sessions may or may not be covered by your insurance.

Please book early for your preferred time, especially during peak season!

Gift Certificates are can be purchased from our online store. Gift certificates can also be picked up at the front desk, mailed to you, or mailed to the intended recipient on your behalf (call us 239-395-5858 with address and credit card details).

We are happy to donate massage therapy gift certificates to support our Sanibel and Captiva non-profit organizations. Please contact us if you have an upcoming event.